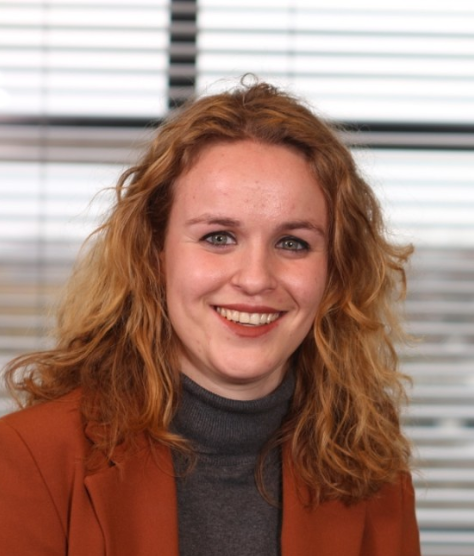 Curriculum Vitae
Writer and communication specialist
Robine Roordink is a writer who graduaded at the Fontys Hogeschool voor Journalistiek in Tilburg, the Netherlands. After her Journalism study, she finished her Master Communication and Persuasion at the Radboud University, after finishing a pre-master in Communication and Information Sciences. She's currently working as a marketing and communication specialist. At my job I manage the social media channels of my company, I strive to optimize the internal and external communication of the organisation.
Education
Master of Arts (Communication and Persuasion)
Radboud University, Nijmegen
September 2018 - September 2019
Pre-master Communication and Information Sciences
Radboud University, Nijmegen
September 2017 - July 2018
Bachelor of Arts (Journalism)
Fontys University of Applied Sciences, Tilburg
September 2012 - November 2016
Minor Music
ArtEZ Institute of the Arts, Enschede
September 2014 - February 2015
Havo
Karel de Grote College, Nijmegen
September 2006 - June 2012
Working Experience
Marketing and communication
Daadkracht, Nijmegen
January 2020 - current
I specialize in all forms of external communication, both digital and in print. I also work on the optimization of the internal communication. I am involved in content creation for the social media channels, website and printed outings of Daadkracht, sponsoring, designing and monitoring the corporate identity and developing, implementing and improving external and internal communication / marketing strategy.
Freelancer
BCM publishing and eventmanagement, Eindhoven
May 2016 - November 2019
After my internship at BCM publishers in Eindhoven I became a freelancer. I wrote (and write) articles for Buitenleven, a magazine about nature, the good (and healthy) life and the outdoors. I also wrote for RCN and I occasionally write for Luzac Mag. You can currently find my name under the rubric 'Mix' in the Dutch magazine Buitenleven. Most of my work as a freelancer is published on this website. Just click 'Journalistiek werk' and then 'Freelance werk' to see it (Dutch).
Online editor (freelance)
Brabants Dagblad, 's-Hertogenbosch
October 2015 - October 2017
In October 2015 I began working as a freelance online editor at the Brabants Dagblad regional newspaper. I was an employee at the Berichtendienst. This means I wrote messages for the website of the newspaper. These messages were about events (like festivals et cetera). A year later (November 2016) I started working as a member of the 24/7 crew at Brabants Dagblad. As an employee at 24/7, I made sure that the website got news (like accidents, nationwide news and regional news). I worked every other weekend, which meant I was working for the Berichtendienst and Weekenddienst simultaneously. In September 2017 the Berichtendienst was dissolved and in October 2017 I decided to focus on my current education, which meant I quit my job at Brabants Dagblad.
Junior Communication Adviser (Internship)
De BeestenBende
November 2018 - January 2018
As a part of my education at Radboud University, I was allowed to follow an internship at a company: De BeestenBende in Nijmegen. In this company my task was to write a report about a communicative issue within the company. My internship lasted for eight weeks. Three days a week I was present at De BeestenBende to help with the workload and to write my report. At the end of January I delivered my report and received an 8,2. 
Receptionist
Museum Het Valkhof
November 2017 - December 2019
In November I began working as a receptionist at Museum Het Valkhof in Nijmegen. I work irregular shifts, which means I'm asked to work if the permanent employees can't. As a receptionist for the museum you must have an interest in art and culture. Alongside that you have to know something about the city Nijmegen and the history of the museum and the city.
Bartender and Singer
Café Dollars, Nijmegen
September 2016 - current
I work as a bartender in café Dollars in Nijmegen as a side-job. This is the main bar with live music in the city. I work irregular shifts as a bartender but you can find me singing in Dollars as well on Fridays (every other week) and Saturdays (every week).
Internship
BCM publishing and eventmanagement, Eindhoven
December 2015 - May 2016
Caterer
La Cloche party catering & events, Tilburg
March 2015 - April 2016
My last catering job was at the end of September 2015 because shortly thereafter that I began working at Brabants Dagblad.
Internship (online)
De Gelderlander, Nijmegen
July and August 2014
I voluntarily offered to see how the online editors work at the regional newspaper De Gelderlander, after my internship there. In the summer I was able to see how the website of this newspaper gets filled by the editors. I also contributed to this and learned how to work with a program called Polopoly. This internship proved to be useful later on, because now I work as an online editor on the weekends for the website of Brabants Dagblad. Both newspapers use the same working methods and programs for this.
Internship
De Gelderlander, Nijmegen
March 2014 - May 2014
Reviewer (voluntarily)
Muziek.nl, Nederland
October 2013 - May 2014
I voluntarily wrote reviews about concerts everywhere in the Netherlands for the website Muziek.nl. This website now no longer exists. Most of my work is published on this website. Just click on 'Journalistiek werk' and then 'Freelance werk' to see it (Dutch).
Employee
Coop supermarkten, Nijmegen
January 2012 - January 2015
I was an employee at a local supermarket. I worked at the bread department of the store.
Skills
Writing offline (magazine and newspaper)
Writing online
No SEO-skills (yet)
Social Media
No SEO-skills (yet).
Editing (video and audio)
Research
See my most recent research by clicking on 'Afstudeerproducties' and then 'Reflectie' (Dutch).
Marketing and customer research
Multimedia
Working with tools and infographics.
Audacity and Adobe Audition